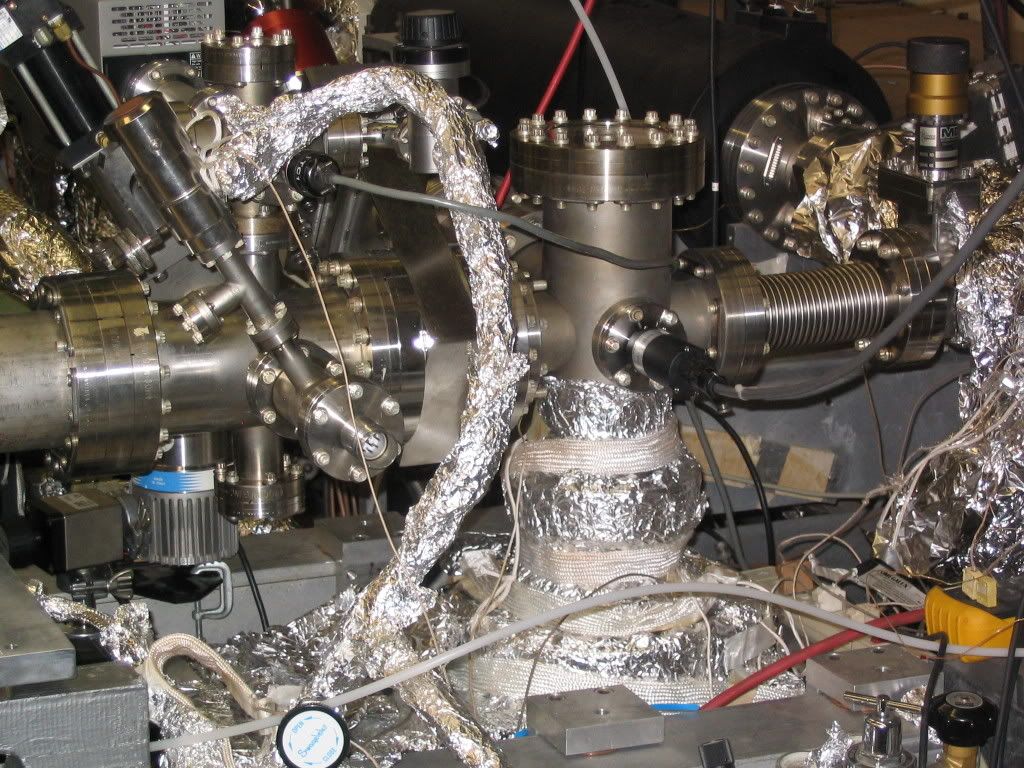 Do you have faith in science? What the hell kind of stupid arse fool question is that, you might ask (with a shocking disregard for grammar, I should add). Well, do ya, punk? Do you understand how a computer works? Do you appreciate MOSFET based technology? You should, because it has helped wankers all over the world spill their seed on mom's carpet. (Mom, like God, generally does not approve of such onanistic wanktivities, but that's not the point.) The point is this, some religiots like to say that atheists simply worship science in the same way that theists worship god; That is, they take it on faith that the science is right only because they are told so by others who claim to speak the truth, and expect to be believed, while they themselves have no direct knowledge at all. This is true, in the same way that the statement "George W Bush is a fucking genius" is true. (If there are any dubya fans out there, that means it has minimal veracity.)
Nevertheless, the creationist nutjobs have an inkling of a point. Most people do take science on faith. When they read in a dozen books about cosmology that scientists think the universe is over a billion years old, they soon come to believe that themselves. Ask them. It's a simple test. Just jump out from the oatmeal at Safeway and ask "dude, how old is the universe?"
You will probably get one of four answers:
1) 6000 years and not a day older!
2) Fuck off intellectual cunt. Why you always gots to be tinking, innit.
3) About 15 billion years, now bugger off, I need to buy some teriyaki sauce because it goes nicely with babies, which I eat all the time, even when I'm not hungry, coz that's just how I do this shit. I eat babies. Did I tell you? Raargh!
4) Excuse me sir, would you mind emptying your pockets?
Well, people DO take the word of scientists, for the most part. Why is that? Maybe it's because they are their own monitors. Peer review has many problems, which I would love to go into someday, but not today. What you can say about it is that it fucking works, for the most part. It might have some temporary fuck ups, but these are self correcting, and the reason why it works is a simple universal truth: people are fucking arseholes. If one guy publishes a result in your field, the first thing you do is check it. If you get the same answer you publish that and say how great the first guy is, but you too are now great. If you get a different answer you publish that and say what an assclown the first guy is, but you are awesome because you spotted this error. Then some other guy will realize that you fucked up, the first guy was right, and then you get a double ass pounding for your impertinence. However it turns out, science has a way of pounding out the truth.
This is the real scientific method. There is falsification, and then there is fistification, and it takes some time to recover from such a fisting. As a relatively young scientist I have learned that this is the way of the world. I would never lie about my data. The main reason for this is that I am extremely awesome and honest. Another reason is that I know that such lies are easily found out. If you publish interesting results, thousands of people will read them, and then try to duplicate them. You will be tested. Bullshitting is really foolish, even if you are an expert, and even then it won't be beautiful (cf. the Henrik Schön scandal at Bell labs.).
So, there is some reason to trust scientists: they are (as far as we know) humans, and thus will fuck each other over at the first opportunity if it will help further their own myopic interests. That means that a scientific consensus is probably a good approximation to a scientific truth, string theory notwithstanding. Despite all this, there is a much more obvious reason to think that scientific "belief" holds more water than any kind of theology: Technology. Where is your mother fucking Jesus powered car? I'll tell you where, it's up your Jesus powered arse you stupid cunt. Everything in our modern lives is technology based. You can't even wake up without enjoying the technological application of the photoelectric effect, et al.
Another matter worthy of consideration is this: do scientists care whose dick you suck? Of course they do, they want you to suck their dicks. But this rarely happens. Christians also seem to care about cock suckering, but it is usually a damage limitation based concern. Somehow the belief in god translates into a knowledge of what humans should and should not do. This would, like all religious concerns, be nothing more than a trivial joke were it not for the intrusiuons religiosity has on normal people. Was Jesus born to a virgin or a crafty skank? I don't give a fuck, but the violence between Christians of slightly differing viewpoints is not restricted to christ punchers; sometimes rational people are affected by it. Was muhammed a prophet from the one true god, or a child molesting murderer with serious halitosis? Again, I don't give a shit, but I surely will if I gets blowed up by some mother fucking A-rabs with a hankerin' for raisins. I don't know about you, but I really do not want to see Sheiks on a plane. It gets worse when you see christ punchers fucking up stem cell research and making abortions illegal. If these cunts had their way I would have to suffer the indignity of having 10 kids and parkinsons in my old age. Fuck that shit. And one can only assume that a solid expectation of the rapture is enough to justify treating the earth like a 5 dollar whore. Somehow, for some cumchuggers, the beauty that is science is overwhelmed by the rancid turdage of religon. What kind of mental hoops must one jump through to justify reducing access to condoms (and therefore increasing risk of HIV infection) just because a gay nazi sith lord says so?

So why believe in science over religion?
If you think this is a valid question you should eat your own colon so you can then re-digest the idiocy that you shat out of your brain, to make sure it wasn't as banal as it seemed on the first parsing.
Often the terms "stupid cunt" and "Christian" or "Muslim" are used synonymously. I feel this is unfair to stupid cunts. Which are you?
ARE YOU A STUPID CUNT?
Well, are you? Sometimes the information is not available. I can help. If you are not sure if you are a stupid cunt or not, this simple test will settle the cuntological quotient question (the CQQ).
CUNTOLIGISTICS CORP.
ANSWER ALL QUESTIONS YES (1) OR NO (0).
(1) Are you a cunt?
(2) Does yo' mama's ass have its own zip code?
(3) Does Mr. T. pity you in any way?
(4) Are you sure you're not a cunt?
(5) Do you do anal?
(6) Is it not incorrect that it was wrongly stated that someone falsely implied that another had said that you were in fact not a cunt?
(7) Was Princess Diana's death awesome?
(8) Will Saddam Hussein's death not be awesome?
(9) Was Jesus' death transitory?
(10) Is G.W. Bush the best prez ever?

(11) Who would win in a fight between robocop, jesus, muhammed and Mumm-Ra out of the thundercats?

(12) If dadwanking is wrong, do you wanna be right?

(13) Is it ok to come in a womans mouth if you gave her a fake name?

(14) Does it make you sick that congress cancelled the superconducting super collider because it was going to cost 14 billion dollars when the "war" in Iraq is now costing 2 billion per week?

(15) Is it still gay to get a blow job from a sexy shemale if you only find out half way through?

(16) Do muslims eat shit for pleasure rather than religious reasons?

The answer key is available to those who are unable to determine if they are in fact a stupid cunt. Just send me an e mail with " I am not quite sure if I am a stupid cunt or not" as the subject and I will get right back to you.


(To save time, if you have to ask, you are almost cerainly a very stupid cunt).