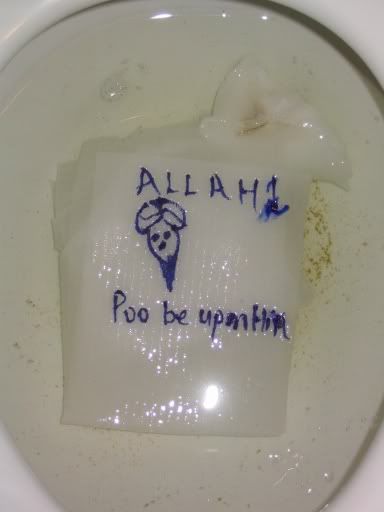 Muslims can praise allah every time they drop a load with my new
Jizzlam Shit Rag
(copyright pending).
I thought about including verses from the koran, but then I remembered how much muslims love cartoons, so I opted instead for a cheeky raghead character. Just imagine all the hilarious arse adventures he with have! This amazing new product will make worship as enjoyable as dropping the kids off at the pool. Don't take my word for it though, just look at these 100% genuine testimonials, that I did not make up.








Wow! Shitting and praising Allah has never been so convenient

greatmuslim 10
I just had a new rotatable toilet installed in my jet so I could shit facing mecca, and this is the only tp I will ever use.

Al mahmoud Jalfrezi
Holy Shit! My asshole has never been closer to god.

Ali Baba
If dumping my ass candy directly onto Allah's greatness is wrong, I don't wanna be right

Mohammed bin Raider